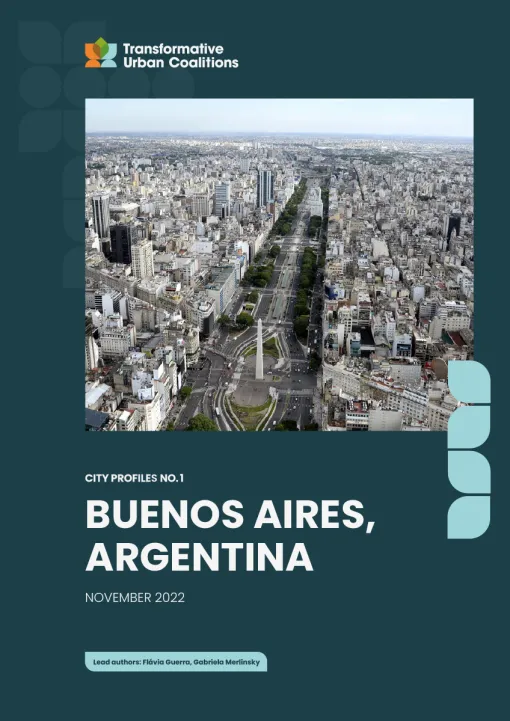 While Buenos Aires is the jurisdiction with the highest per capita gross domestic product (GDP) in Argentina, there are historically marked differences in socioeconomic levels and socioenvironmental conditions between the north and the south of the city. The effects of climate change are intertwined with those of economic globalization, a process of "double exposure" that disproportionately affects particular social groups and areas in the city. 
Slums and informal settlements in Buenos Aires are growing. Most face significant resource and infrastructure deficits, as well as high flood risk, and are thus highly vulnerable to the effects of a changing climate. The ongoing socio-urban integration processes in informal settlements represent opportunities to rethink and territorialize climate action from an integrated habitat perspective. 
Since the early 2000s, Buenos Aires has built a robust track record of climate policy, including a climate change law and three Climate Action Plans (PACs). The city has also long been a hotbed for social movements, with a recent resurgence of "the right to the city". This provides fertile ground for climate justice narratives and transformative climate action to take root. 
Sustainability transformations in Buenos Aires could also be enabled by articulating public policies across sectors and levels of governance, strengthening the existing capacity development efforts of particular local actors to raise climate awareness, connecting and amplifying emerging community-led initiatives that showcase transformative climate action, and clarifying financial flows as a way to stimulate climate financing. 
Tackling climate change in Buenos Aires requires integrated adaptation and mitigation approaches that put the most vulnerable at the centre.