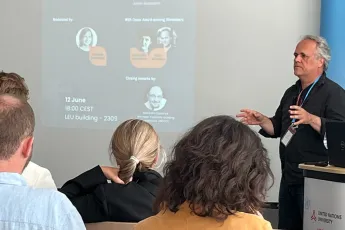 Dirk Wilutzky talks to the audience at the film screening. © Aileen Orate / UNU-EHS
To encourage and ignite cities to change into greener and more climate-friendly and socially just areas, captivating narratives can help visualize and support the transformation of urban futures. On Monday 12 June, over 40 participants gathered at the UN Campus in Bonn for the screening of two short documentaries aside the SB58. The films feature the world's most respected expert scientists and changemakers and were produced by Oscar-winning filmmakers Mathilde Bonnefoy and Dirk Wilutzky. They are the first documentaries in a series of 30 films to inspire urban action as part of Transformative Urban Coalitions (TUC), a project under the International Climate Initiative (IKI) of the German Government. The event was organized in cooperation with the Paris Committee on Capacity-building (PCCB).
"What we as humanity have to do to combat climate change is the same we would have to do to create a true paradise. There is so much good to come out of fighting climate change, that it would be foolish not to do it" said Dirk Wilutzky, who was present during the event. 
The first film featured Climate scientist Johan Rockström. He explained the urgency of operating within "planetary boundaries" — the planetary life-support systems essential for maintaining human life on Earth. Called "An Existential Threat", the documentary explains how we can avert an ecological and climate collapse and create a healthier, more prosperous future if we act now.
In the next film titled "Where We Are Heading", climate scientist Kevin Anderson warns that continuing on our current path could result in a 3-4°C temperature rise by the end of the century, a catastrophic outcome to be avoided at all costs. Anderson emphasizes that failing to stay within 1.5°C of temperature rise is a choice. To inspire action and provide viewers with hope, Anderson closes with a message of hope: "The great thing about having a choice is that we can choose a different way out of this," he says. 
A third documentary, "Overcoming Paralysis" is available on the TUC website as well, featuring Christiana Figueres, the former Executive Secretary of the United Nations Framework Convention on Climate Change (UNFCCC) and a key negotiator of the 2015 Paris Agreement. She acknowledges the despair that can arise from 'climate paralysis' and the realization that climate predictions have come true. Nevertheless, she urges us to regain our sense of agency and tap into the 'stubborn optimism' within ourselves that is essential for driving the necessary change.
The films profoundly impacted attending delegates, inspiring them to incorporate story-telling to raise awareness and inspire action among their own countries, communities or organizations. All three films are available with English, Spanish or Portuguese subtitles. Over the course of the next years, ever quarter new documentaries will be released. All thirty together form the road to "a true paradise."