Location
Campus Cidade Universitária José da Silveira Neto
Belém-PA
66050-160
Brazil
The upcoming Brazil National Association of Post-Graduate Studies and Research in Urban and Regional Planning (ENANPU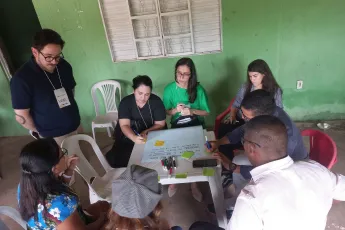 Urban Lab participants during a workshop in Teresina. © WRI Brazil
The upcoming Brazil National Association of Post-Graduate Studies and Research in Urban and Regional Planning (ENANPUR) meeting is set to take place in Belem, Brazil, between 22 and 26 May. The event will provide a forum for scholars and practitioners in urban and regional planning to discuss their research, exchange experiences and explore new collaborations. 
Lucas Turmena, UNU-EHS researcher within the Transformative Urban Coalitions (TUC) consortium, and Simone Gatti, Urban Development Coordinator of WRI Brasil, will present their joint paper on the experience of Urban Labs in Brazil. The paper, that is titled "Transformative Urban Coalitions: Possibilities for addressing inequalities and climate injustice in Recife and Teresina through new models of governance", contributes to the discussion by sharing findings on the potential and limitations of using Urban Labs to transform territories through just climate action in the cities of Teresina and Recife. The article underscores the importance of collaborative and inclusive approaches to governance in addressing the climate crisis and inequalities.
This year's choice for Belem as the location of the event is significant, as the city is located in the heart of the Amazon rainforest. In this context, the ENANPUR meeting also provides an opportunity to reflect on the role of urban and regional planning in addressing the complex and interconnected challenges regarding climate change that are faced by cities. 
Further information regarding the event and its programme is available here.